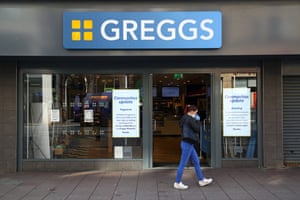 Good morning, and welcome to our rolling coverage of the world economy, the financial markets, the eurozone and business.
A swathe of UK companies are reporting today that Covid-19 continues to hurt their businesses, more than six months after the UK first imposed restrictions to battle the pandemic.
High street baker Greggs has warned that staff faced reduced hours, and potentially job cuts, as it tries to cut its employment costs.
Greggs, famous for its steak bakes, sausage rolls and new vegan offerings, reports that like-for-like sales in September are only 76.1% of the 2019 levels (an improvement on a 'slow' August).
With the government's furlough scheme wrapping up in a month (replaced by a less generous wage subsidy package), Greggs says it must make cuts:



With business activity levels remaining below normal for the foreseeable future we must change the way we work to be as productive and flexible as we can in order to protect as many jobs as possible for the long term. We have completed a review of our activity and requirements in every part of the business and are now proposing a series of changes which are the subject of a collective consultation with union and employee representatives.

Our aim is to minimise the risk of job losses by negotiating reduced hours in our shops and we will update on the outcome of the consultation when concluded.
Greggs certainly isn't the only high street firm struggling. Card Factory, which sells gifts and cards, has just posted a pretax loss of over £22m for the six months to July 31.
Card Factory also warned it can't give any financial guidance for the next six months, due to uncertainty over the virus.
With the crucial Christmas trading period looming, Card Factory explains:



Recovery in the retail sector remains sensitive to spikes in Covid-19 cases and potential local or national restrictions, creating uncertainty about customer footfall and shopping habits.

It is also too early to determine whether basket mix and average spend patterns, in-store and online, will continue or settle back to pre-Covid-19 levels.
John Menzies, which operates ground handling and aeroplane refuelling services at UK airports, has had an (understandably) torrid time too. It has just reported a loss of over £80m for the first half of 2020, due to the plunge in passenger traffic.
Executive chairman Philipp Joeinig says the company has experienced an unprecedented situation this year:



The spread of Covid-19 has precipitated the imposition of an unprecedented level of travel restrictions by governments across the world severely impacting the aviation industry.

These restrictions have affected the Group's revenue from the ground handling and into-plane fuelling services in particular. Volumes across all product categories were down compared with the first half of 2019: ground handling turns down 50%, cargo tonnage down 22% and fuelling events down 41%, as was to be expected with the dramatic reduction in flights.
Looking ahead, Joeinig predicts that conditions will remain tough for some time, given the slump in demand for air travel.
He told shareholders:



We currently anticipate market conditions will remain challenging through the winter and the early part of next year, but expect a sustainable recovery in activity levels thereafter, contributing to modest revenue growth in 2021 over 2020.

Whilst cautious on the pace of activity level recovery over the next 18 months, our restructured cost base and the rationalisation of the global portfolio should enable the Group to generate higher returns as volumes improve.
Also coming up today
The latest UK mortgage approvals figures are expected to show a surge of lending in August, as people take advantage of the current stamp duty holiday
European stock markets are expected to be subdued today, after their best session since June on Monday. Investors are cautious ahead of tonight's US presidential debate between Donald Trump and Joe Biden.
Jasper Lawler of London Capital Group says that the markets are currently banking on a Biden win, so there could be volatility if Trump performs well:



A big upset by Trump could unearth some market volatility as investors re-price a possible Trump second term – or maybe worse – a contested election result and even bigger delays until the next stimulus package gets passed.
The agenda
9.30am BST: UK mortgage approvals for August – expected to rise to 71,000 from 66,300
10am BST: Eurozone consumer and business confidence survey for August
1pm BST: German inflation data for September – CPI expected to fall to -0.1%