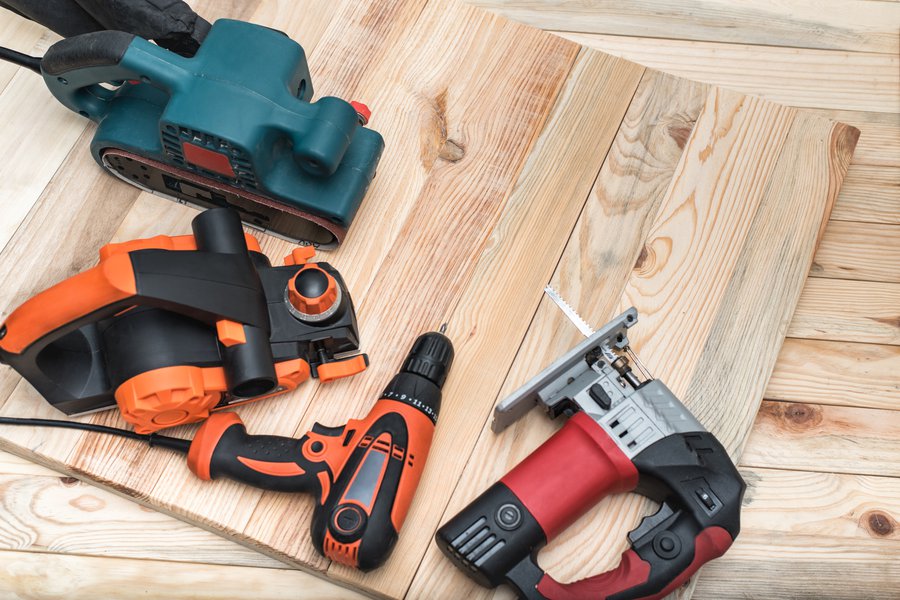 Should You Rent or Buy Tools for Your Renovation?
Do you find your renovation projects are outgrowing your toolbox? Home Depot (NYSE: HD) has come to the rescue of many a DIYer in need of tools for short-term use. Now Lowe's (NYSE: LOW) has also begun to offer tool and equipment rentals.
Before you fork over the cash to buy tools you might not use on a regular basis, consider if tool rental is right for you.
Buying vs. renting tools
Of course, if you're using a large, expensive tool for a one-time job, it will likely be better to rent. On the flip side, if you plan to use a tool often, it might make sense to invest in one.
When determining whether a tool is better as a purchase or rental, ToolEvaluator.com suggests the following:
First, determine the rental cost per hour for the tool. Figure out how much time you'll need to use it, including how long it takes to retrieve and return it from the store or warehouse. Divide the total cost — don't forget taxes and any other associated fees, like transportation — by the number of hours the tool is in your possession.
Figure out how often you'll use the tool in a seven-year period, which is a conservative lifespan for tools that see moderate usage. However, if planning to buy a top-of-the-line tool, you can expand this timeline accordingly.
Shop around for prices on the tool if you were to purchase it outright.
Once you have that information, calculate the following:
Rental cost per hour x number of total hours over life of tool = Rental cost over time
If the rental cost over time figure comes out lower than the purchase price of the tool, then it makes sense to rent it. But if it comes out higher, you might want to buy it instead.
However, before you book that rental or head for the checkout, here are some other things to consider:
Is it inconvenient to retrieve or return the rental equipment? Will transporting it tack on unnecessary rental hours or costs? Some rentals will charge for a day or half-day usage at minimum, so this could help or harm your bottom line.
Do you need to procure special storage for the tool if you buy it, like a bigger shed or even a rental unit? How much will this cost?
How often do you have to maintain the tool if you buy it? Is it costly to do so? If so, is it better to rent?
Consider quality and price
The quality of rental tools will likely be commercial- or industrial-grade. That means these tools will likely be more than up to the task you have in mind for them. Could you buy a more economical version of a tool? Yes, but you will also likely get the weaker version of it. For example, you might pick up a cheaper floor sander, but if it's too unwieldy, the so-so results won't be worth the extra sweat.
Here's a small sampling of tools and equipment that might make for better rentals instead of purchases, depending on the scope of your project:
Tile saw: There are fairly inexpensive tile saws out there, but they're only suited for thinner porcelain or ceramic tiles. If you need to cut through thicker tile or materials like marble, you'll need something heftier.
Post-hole digger: A manual version of this is likely to give you more of a headache than a hole, especially if you've got multiple ones to dig.
Heavy lawn equipment: If you've got a shed the size of an airplane hangar, then go ahead and purchase a tiller or that other large landscaping equipment you use only once or twice a year. Otherwise, it's better to rent.
Paint sprayer: The DIY versions of these look fun and easy to use on TV, but they might be a complete mess in execution. They likely aren't as good as the ones you can rent, especially when it comes to refilling or cleaning them.
Of course, some tools require a bit of practice to master. If you find the learning curve is too steep for you to DIY it, you might also want to consider something else — like paying someone to do it for you.
The bottom line
You need the right tool for the right job. The good news is that it doesn't always have to cost a lot. If buying tools is too expensive, you might be able to rent what you need instead. Depending on how often you use it, renting might be the better option for your budget.