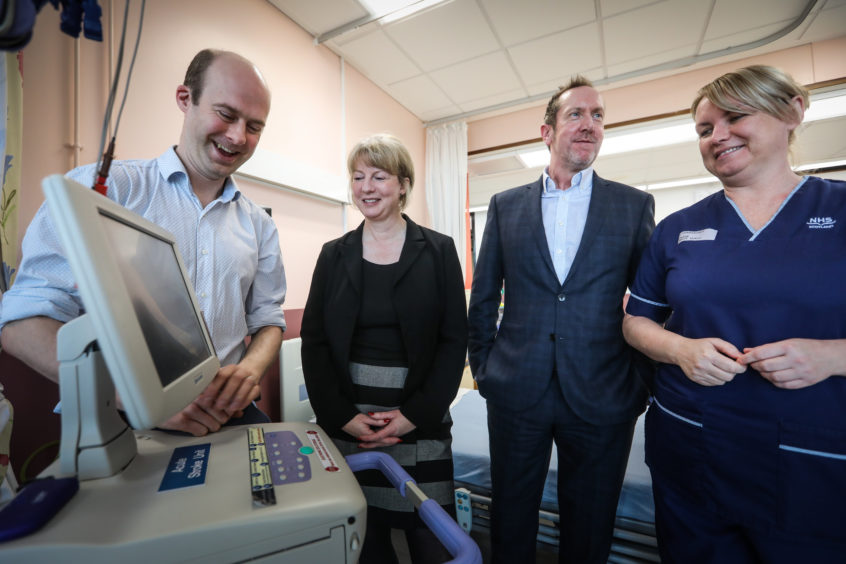 Improvements in Tayside stroke care since launch of new Ninewells unit
A new "centre for excellence" stroke unit at Ninewells Hospital has been praised after treatment in the region improved in the weeks after its launch.
A report on the hyper-acute stroke service, which was introduced at the hospital late last year, fund the percentage of patients receiving thrombolysis — medication to remove blood clots — in Ninewells increased from seven percent to around 20%.
The unit has also contributed to a reduction in "door to needle time" — the time between patients arriving in hospital and receiving thrombolysis.
The proportion of those receiving the treatment within half an hour of their arrival increased from 13% to 50%. Some 75% have been treated within one hour.
The findings are contained in a new Scottish Stroke Improvement Programme National (SSIPN) report.
It examines how units across the country performed against a number of targets, such as CT scans in 12 hours, swallow assessment in four hours, admission to a stroke unit within a day and aspirin if appropriate within a day.
The unit only opened at the end of 2019 but NHS Tayside did well in all categories.
Stroke is the third most common cause of death in Scotland.
Dr Matthew Lambert, consultant and clinical lead for the Ninewells stroke unit, said: "The team in Tayside has made significant changes to the pathway of care for people who have a stroke, with the aim of improving timely access to a stroke specialist team and to the treatments and care that we know improve the chance of recovering from stroke.
"It is great to see these improvements already in a number of different areas of care and we will continue to build on these.
"The service has continued all throughout the Covid-19 pandemic and, as a result of more public awareness of stroke and its symptoms, we are pleased to have seen an increase in people seeking medical help within the first few hours of a stroke, when there is much more we can do to reduce the damage."
Further changes are planned, including a move to take patients directly to the radiology department for scans which would allow thrombolysis to be delivered even quicker.
The unit's inclusion at Ninewells was a key part of the NHS health board's Transforming Tayside programme. Ahead of its launch, Dr Lambert said the aim was to become a "centre for excellence".