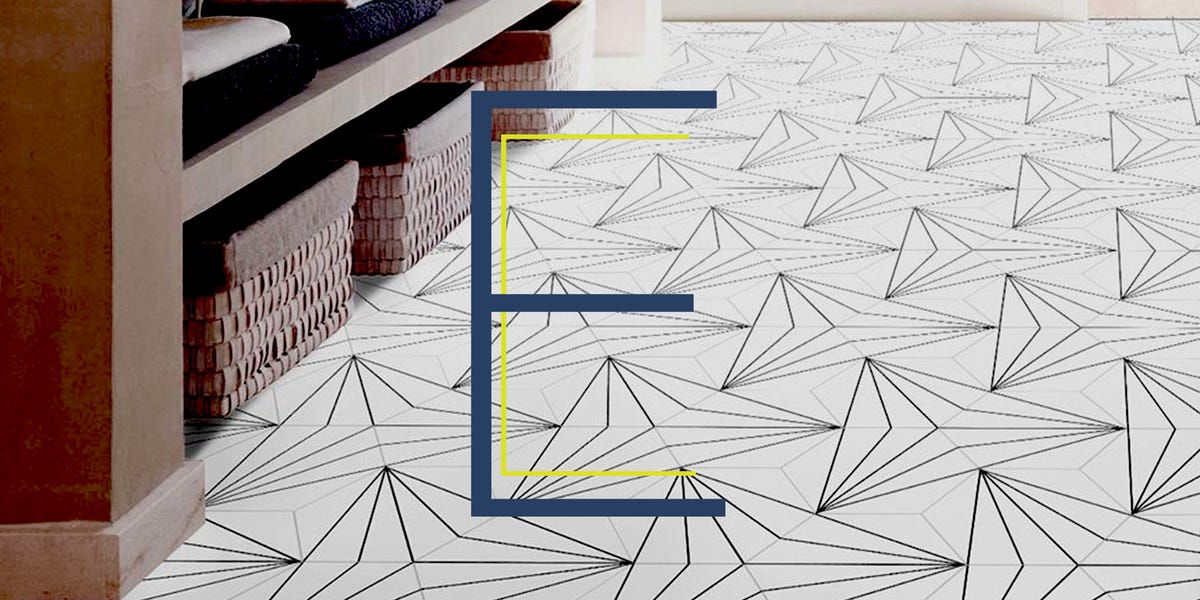 Encaustic Tile – The Home Depot Flooring A-Z
What's under your feet (or however you get around) is as important as anything when it comes to home. That's why this fall, we collaborated with The Home Depot on an A to Z guide that'll give you the confidence to make flooring choices you'll love. Check out the A to Z handbook here.
If you've even glanced at social media over the past few years, you've seen encaustic tile. Whether in patterned backsplashes, vibrantly-hued showers, and even black-and-white hexagons forming an intricate pattern on a floor, encaustic tile is an old-school flooring darling that's been around for centuries.
The artistry, which dates back to the Medieval period, uses at least two (and up to six) colors of clay to make up the design and body of the tile. On the flip side, ceramic tile has a pattern which sits on the surface, then is coated in a glaze.
Today, most encaustic tile—which comes in a rainbow of colors, unique shapes, and unlimited patterns that are both eye-catching and intricate—is made out of cement using a hydraulic press, and can help reshape a hum-drum bathroom or kitchen into the showstopping highlight of the house. The Home Depot has an array of styles and sizes of the tiles in neutral and poppy colors, so choices abound for what works with your home's (and your!) personality.
Keep in mind size, purpose, and atmosphere
One encaustic tile, six patterns for your floor.
Before you start dreaming about your new jewel-box of a powder room, though, there are a few things to keep in mind—particularly if you're using encaustic tiles to form a repeating pattern. The sort of tile and pattern you select should rely on three things:
The size of a room
The space's daily purpose
Whether you want a more open or intimate feeling
Smaller tiles create more cozy spaces—like a small bathroom or laundry room—and can add a great deal of visual interest. Larger tiles, on the other hand, can make a space feel sleek, but often lack the same level of textural depth.
Lay it out first
"For any geometric pattern with encaustic tile, you definitely have to lay it out first," says Jessica Pleasants, project manager at Godwin Residential Construction. "It's really important to understand how that pattern is going to fit within the space overall so that it can be centered evenly or intentionally laid out, rather than being haphazard."
And when you're laying out your tile, always let a compass be your guide. "If you picture a compass in the middle of a floor—north, south, east, west—it's a quadrant. The tiles on the left and right side should be the same as each other, and the tiles on the top and bottom side should be the same as each other," says general contractor Mark Clements.
By centering the entire field of tiles on your floor, it ensures that you won't run into trouble down the line and have to fill in gaps with awkward-looking, sliced-in-half tiles.
The tiniest details matter
Since encaustic tile—or the slightly more affordable ceramic tiles that have been patterned to look more like a true cement encaustic tile—can often run on the smaller side or have unique (read: non-square or rectangular) shapes, paying attention to even the tiniest details matters. For example, using spacers to ensure an even grout-line can make or break the look of a space. (For more on working with grout, head on over to letter G!) When deciding if encaustic tile is right for you, you also need to take into account its upkeep—the material can be more porous than its ceramic cousin.
Don't forget to plan for the future: buy extra tiles in case of cracks, breaks or mistakes down the road.
Creating a stunning pattern using encaustic tile can be one of the most outside-the-box, personalized flooring experiments. It's also a way to feel rooted in history, as you take part in a vibrant form of craftsmanship that's allowed for creativity and self-expression to be writ large in the home for centuries.