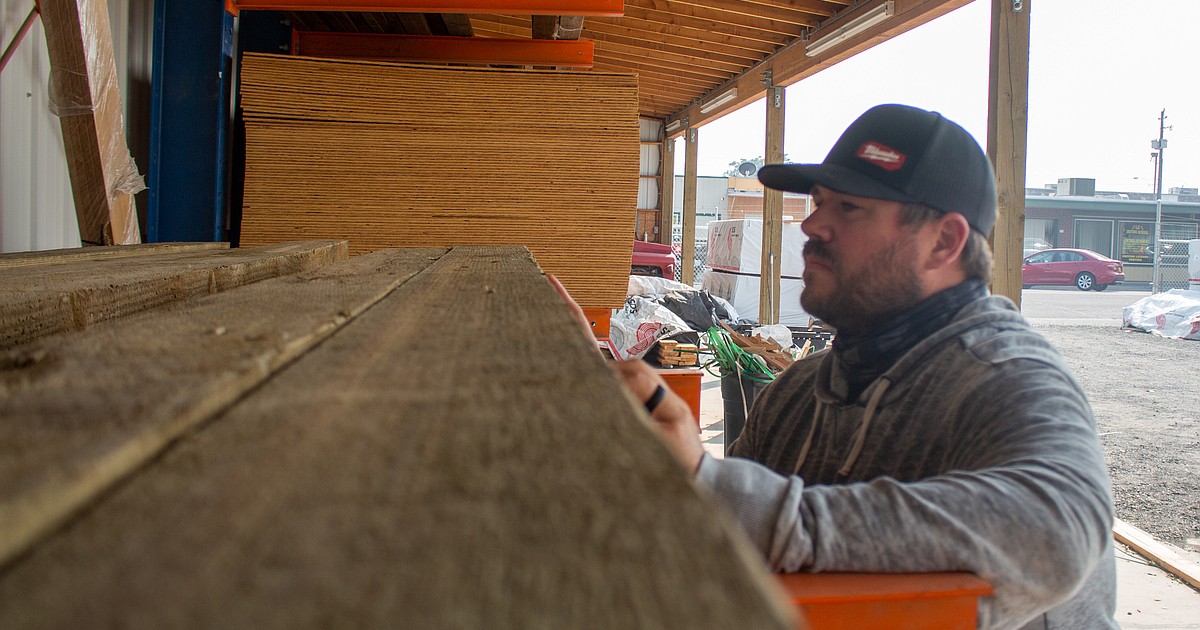 Columbia Basin Herald
With people spending more time in and around their homes the last few months since the coronavirus surfaced around March, picking up home improvement projects and remodelings has become a major trend.
Local contractors, construction companies and hardware stores are seeing a variety of projects being picked up.
Jeremy Sewall is the store manager at Quincy Hardware & Lumber. Sewall said they saw a huge increase in people coming in almost immediately after the coronavirus-related closures went into effect. The fishing section was the first to get hit with a wave of customers. Then when the state shut down fishing, the interest shifted quickly, he said.
"Once they did that, all the feeder fencing started flying off the shelves," Sewall said. "I could not keep my feeder fences in stock, treated 2x4s, treated 4x4s."
Fishing has since reopened.
Talking with one of his suppliers for a particular fencing bracket, Sewall said he was told the bracket had never been ordered by the pallet before. Now, they were ordering multiple pallets to try and meet demand.
Sprinkler systems and paint supplies have been the popular trends the past few months, he said.
Trying to predict the next popular item has been tough, Sewall said.
"It's been all over the map," he said. "The hard part this whole year has been, what's the next thing to go, and trying to stay ahead of that."
Recently, he said he's seen a lot of people bringing in desks and tables they want to refinish, because there are more children learning from home. With the high winds that swept through the Basin earlier this week, he said a lot of people are coming in to fix their roofs or replace downed fences.
Christina and Darin Arnall are the owners of D.C. Custom Construction Inc. in Quincy. Christina Arnall said their business has remained busy throughout the coronavirus-related shutdown and restrictions, something that surprised her to see.
"Our phone has been ringing regularly with people just wanting to get small stuff done and wrapped up, stuff that's been bugging them, bigger projects around the house, things like ponds, water gardens, outside features, lots of different things," she said.
(Next week in Columbia Basin Homes, read more about Christina Arnall's artistic work in concrete.)
Paul Elsey, of Quincy, started his company, Paul's Hometown Handyman LLC, a little more than three years ago. After being closed down for a month when the pandemic first struck, Elsey said he has been as busy as he could want, remaining booked for the next four to six weeks.
He said his projects typically are of the "honey-do list" variety, but a lot of those projects have been picked up by people themselves this year since they have a lot more time at home.
"What I'm trending in, and still doing, is more of the renovations and remodels," Elsey said. "I'm a general contractor, so the projects are bigger, the job scope and scale all jumped up a caliber."
Bathrooms and kitchens have been the popular remodeling jobs, he said. Difficulties with getting supplies is holding up some of the larger projects, he said, with a kitchen remodeling held up currently by cabinets that were meant to arrive weeks ago. Despite some of the hurdles he has had to jump, business has remained steady.
He said he feels blessed to be able to remain busy and keep a bit of his normal routine.
"This is a great area, I stand by that," Elsey said. "I do periodic posts, I use my Facebook page as my website, just thanking Grant County for how special the people are and how supportive they are in general."
Elsey said he doesn't see business slowing down any time this year.