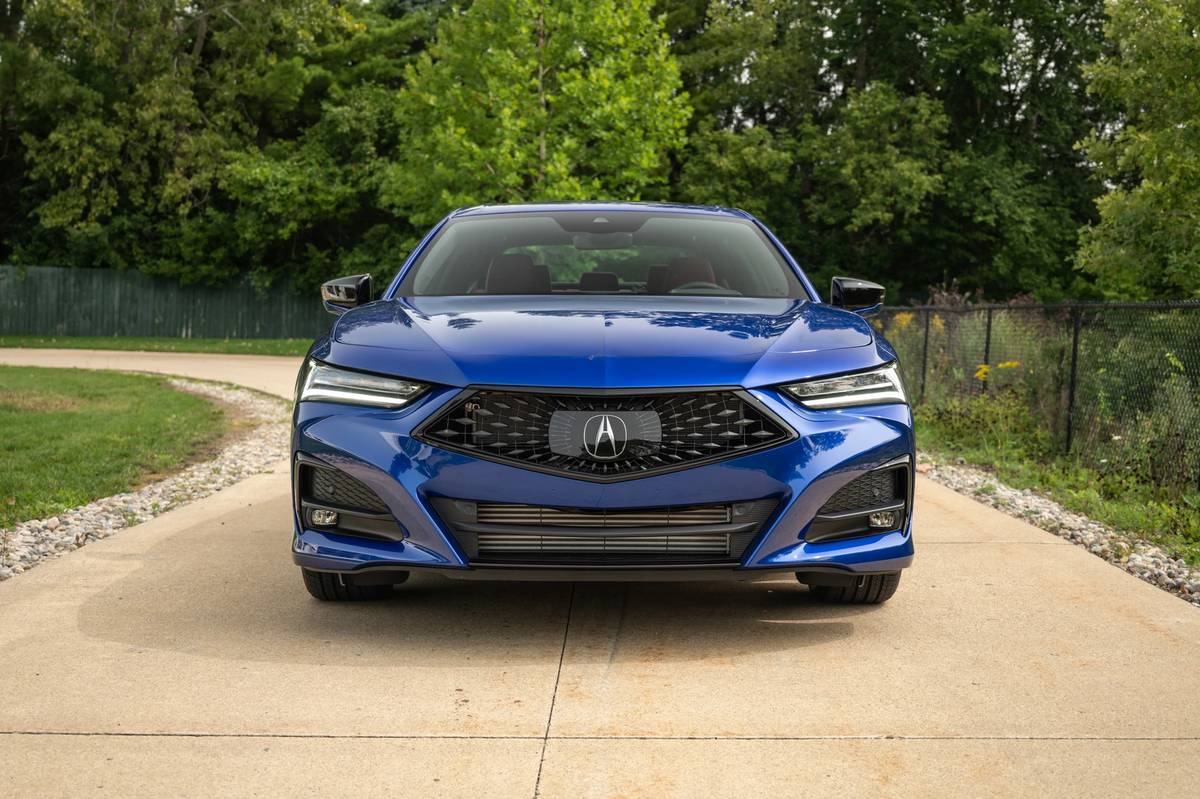 2021 Acura TLX Review: Subtle Changes, Big Improvements | News
Acura gets you, America — they know you've given up on sedans in favor of SUVs. But that doesn't mean they're giving up on you, especially since 30% of buyers still want a traditional sedan, according to the company. Acura also realizes that this means sedan buyers are now a much more focused group with specific vehicle desires that they're not seeing fulfilled in today's SUVs.
It's for them that the company has redesigned and repositioned its latest TLX luxury sports sedan — people who are specifically seeking a sports sedan for themselves and maybe one other person in their lives, not a family hauler that sometimes needs to be an entertaining ride. The new TLX is first and foremost a driver-oriented sports sedan, with Acura's newfound focus a pleasing gamble for people who still like sitting low in a vehicle.
Related: 2021 Acura TLX: Elevated Style, Escalated Price
Carefully Disguised as a Rear-Wheel-Drive Car
The new TLX sits on a new Acura-dedicated platform, according to the company, but the newness of this platform goes beyond its brand specificity. The design details are very interesting — the car looks longer, lower and wider than it did before, with the proportions of a rear-wheel-drive vehicle. It's not one, however; it's still very much a front-wheel-drive platform with optional all-wheel drive, but Acura has done things like stretch the wheelbase by 3.7 inches and increase the dash-to-axle ratio (the distance between the base of the windshield and the envisioned center point of the front wheels) by a whopping 7.8 inches. These give the new TLX a long-hood, short-trunk look that you most often see on RWD cars like the Mercedes-Benz C-Class or Alfa Romeo Giulia.
It definitely makes an impact on the TLX's overall looks. While the styling is no great departure for the class (you could slap an Infiniti or even a Buick badge on the TLX and nobody would question the decision), it turns the TLX's looks from "warmed-over Honda" to "segment-appropriate sports sedan." Its best view might be from the side, where you get a good sense of just how "cabin-rearward" this front-drive Acura now is. It's a successful restyle and the first bit of truly attractive, desirable rolling sculpture to come out of Acura in some time.
Going After the Remaining Enthusiasts
As good as the new TLX looks, we've often been disappointed by similar efforts that don't deliver on the advertising. That's not the case here: Acura has done its homework and delivered a proper sports sedan, designed to entertain its driver through an engaging driving experience (when you want it to). The overall sense is one of smoothness, in everything from the power delivery and chassis balance to the ride quality and astonishing quiet in the cabin. Not only does the new TLX no longer look like a warmed-over Honda, it no longer feels like one, either. The improvements to chassis rigidity combine with an improved weight distribution and redesigned double-wishbone front suspension to deliver a buttoned-down, properly premium driving experience, one that feels amazingly cushy in terms of ride quality but still delivers tight responses and proper body roll control.
What's all that mean? It means that when you want to attack some twisty roads or highway on-ramps at elevated speeds, the TLX responds with eagerness. When you want to just sit back and cruise in serene, relaxed comfort, the TLX does that, too. 
Acura changes up some of the suspension equipment depending on which of four trim levels you get: base TLX, Tech, A-Spec and Advance. All trims except the Advance get a standard sport suspension, and the Advance gets an electronic Adaptive Damper (shock absorber) system. Both are tuned to the softer side of the sports sedan spectrum, with the base suspension coming across as compliant and well damped, yet still keeping the TLX well under control on sweeping bends or quick transitions even on broken pavement.
The adaptive dampers in the Advance trim really do change the feel of the vehicle when you select between Normal, Sport and Comfort modes on the drive mode selector. Comfort is especially cushy, turning the TLX into a limousine-like ride I've experienced only in much larger, more expensive luxury cars. But even Sport mode's firmer settings are still considerably softer than what you'd find in a comparable Mercedes-Benz or BMW with an adjustable suspension. That's OK — it allows you to enjoy the car's newfound torsional stiffness without being beat up by an overly aggressive suspension in the process. Suffice it to say that Acura has made a noticeably well-prepared base on which to build what is sure to be an extraordinary Type S high-performance trim.
Gone Is the Old V-6 Engine
Regardless of which trim you choose, the only powertrain option (for now) is a turbocharged 2.0-liter VTEC-equipped four-cylinder engine making 272 horsepower and 280 pounds-feet of torque. This engine replaces both the 2.4-liter four-cylinder and 3.5-liter V-6 in the old TLX, meaning that the base cars get a massive bump in performance, while the higher-trim cars see two cylinders and a few horses go missing, but an improvement in peak torque. The only transmission is a standard 10-speed automatic replacing last year's nine-speed, with either standard front-wheel drive or optional torque-vectoring Super Handling All-Wheel Drive (SH-AWD), available on all trims.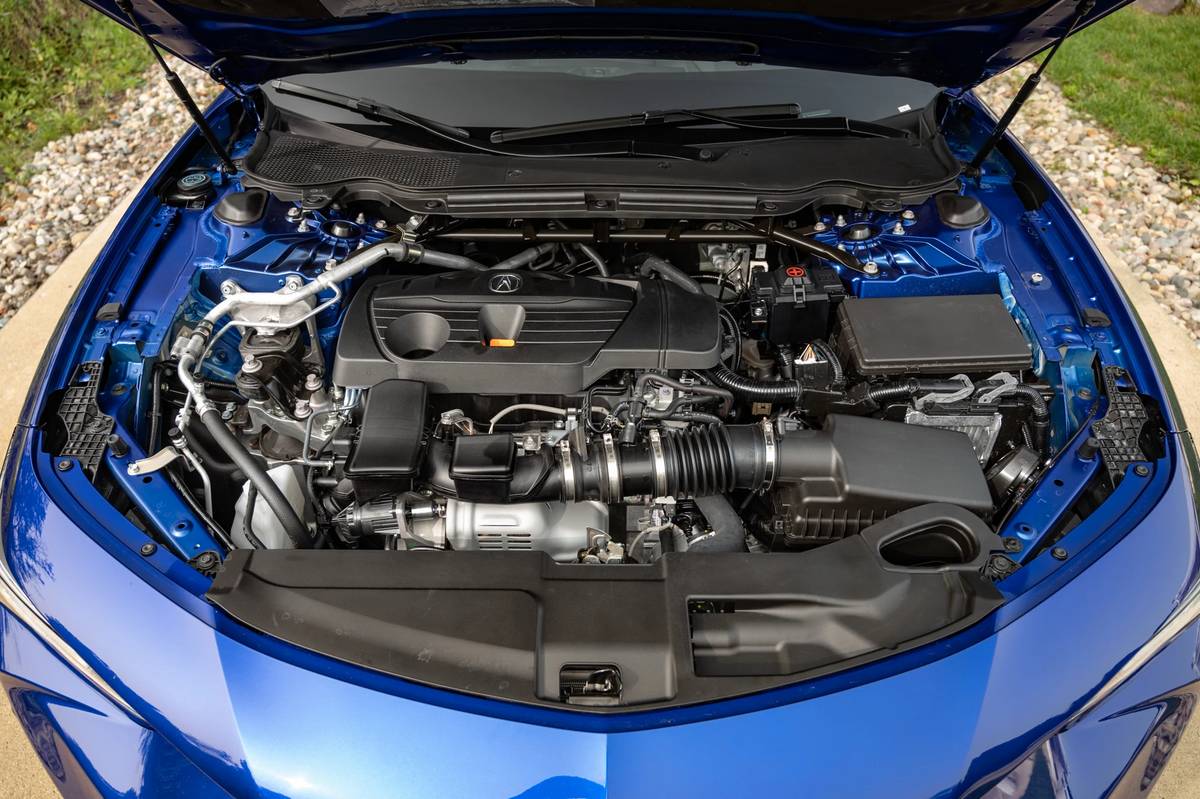 You won't miss the old V-6 given how good this new turbo 2.0-liter engine is. It's perfectly matched to the new 10-speed automatic, featuring smooth shifts and predictive behavior that always has the engine where it needs to be for producing either plenty of grunt or smooth sailing. It's accompanied by some interesting sounds, however — it's obvious that the exhaust noise is piped into the cabin (it appears to be coming from two directions, with two different notes, when you really floor it), as it doesn't sound like a four-cylinder engine at all. It sounds more like a V-6 has been recorded and played back for occupants, which makes sense given the extraordinary level of sound deadening the TLX displays under all conditions. I don't mind it, however, as it lends a snorty sound and feel to the engine, further reinforcing the TLX's newfound focus on sporting pretensions. Later on, a new 3.0-liter V-6 will be introduced with the arrival of the top Type S performance trim, but that's not arriving until early 2021 and was not yet available for test drives. 
Stopping is also a positive event, with new electronically controlled brakes that Acura says were inspired by the ones used on the NSX supercar, which allows them to tune the brake pedal force and feedback. While I was not able to really get the brakes hot enough to test them for fade or feel with repeated aggressive use, they felt fine in normal operation in around-town and back roads use, without any artificial feel or wonky progression that can sometimes accompany electronic brake-by-wire systems.
An Upgrade to the Interior
The new TLX is more expensive than the outgoing one (more on that in a minute), but you never feel like you're not getting what you're paying for given the upgraded materials and technology in the cabin. The car is obviously designed to be focused on the front occupants only — they have the comfiest seats and more space between the driver and passenger, with all the soft-touch materials, hand-stitched dash coverings, real wood and real metal trimmings you can stuff into the interior. The backseat suffers from the new cab-rearward packaging changes that have made the TLX look like a RWD car — backseat legroom is pitiful, barely better than the Alfa Romeo Giulia's completely unusable backseat, and headroom isn't much better. I was unable to position the driver's seat where I normally sit and then sit behind it without moving it forward; my head was hard up into the headliner, as well. The new TLX is meant to be driver-focused in more ways than just providing an entertaining experience — it's also driver-focused in terms of who you bring along. If you're looking for a vehicle to bring along the whole family, Acura will happily show you the new RDX SUV that features a number of the same new sporty features the TLX employs … but chances are, if that describes your needs, you were already looking at one anyway.
My test drive involved the two top trim levels of the TLX, the A-Spec (which features a more aggressive sport appearance package) and the Advance (which is a more sophisticated look but also features the electronically adaptive suspension). Both interiors have details to recommend them: The A-Spec's beautiful red leather and metallic trim is striking, but the orange-on-silver gauges are as hard to read here as they are in the RDX. My preference is for the Advance's more traditional interior colors, featuring beautiful light wood and more legible gauges. It's a definite upgrade to the cabin and in keeping with Acura's repositioning of the TLX upmarket, meaning that it's gunning for more premium offerings such as the Audi A4, Mercedes-Benz C-Class and BMW 3 Series or even 5 Series. The difference between prior TLX models and this new one is that I'd actually put the new TLX up against these luxury stalwarts without reservation. That's not something I'd do with prior versions.
All TLX models feature Acura's new True Touchpad Interface control panel for the multimedia system — the standard 10.2-inch display atop the center console is just a display, not a touchscreen (not that you could really reach its far-off location anyway). The system itself works reasonably well, with easy-to-read displays and menus, but we're still not entirely sold on the remote touchpad being the best way to control it. Anything that adds a layer of distraction between my brain and the system is troublesome, and while this remote control pad is better than Lexus' remote control, I still really just want to be able to touch the dang screen and have it do what I want. I suspect that familiarity would breed acceptance with this system — as someone who gets into dozens of cars a year, I don't find that it lends itself to quick use, but if you live with it awhile, I suspect it becomes more second nature. The same can be said with Acura's push-button transmission selector, which feels awkward at first, but probably gets easier and more intuitive the more you live with it.
More From Cars.com:
Pricier but Worth It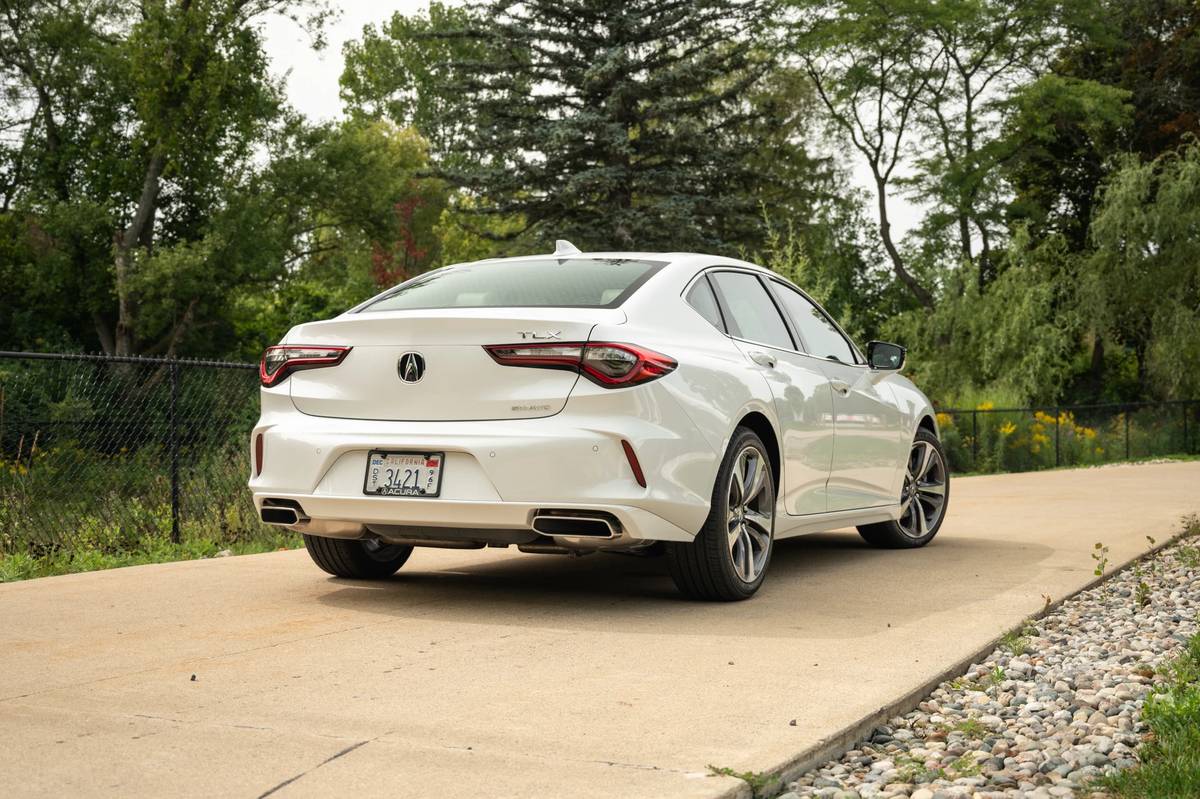 We've already reported on how the new 2021 TLX will see a $4,500 bump to its base price, which is a considerable increase — but given the change in the vehicle's positioning and equipment, it's not like you'll wonder what the extra cash is for. The much more powerful base engine and new transmission alone justify a big portion of that increase, but you also get a considerable amount of safety technology as standard that costs thousands of dollars more on competitors if they offer it at all. The base price for a 2021 TLX is $38,525 (including destination fee) and includes items like adaptive cruise control, lane keep assist and road- and lane-departure mitigation. That price also includes full LED exterior lighting, 18-inch wheels, sport seats with 12-way power adjustment and a 10-speaker premium audio system. Major options become standard as you progress up the ladder of premium trim levels, with items like a 13-speaker ELS Studio audio system or 17-speaker ELS 3D audio system available, 19-inch wheels, 16-way power seats, heated and ventilated seats, and more. A top-spec TLX Advance Package will come in "comfortably equipped" according to Acura at $49,325, thousands less than competitors. 
The combination of impressive driving sophistication, top-notch on-board technology, classy cabin materials and excellent value pricing should put the new TLX on the shopping list for anyone still considering a proper sports sedan over an SUV.
Cars.com's Editorial department is your source for automotive news and reviews. In line with Cars.com's long-standing ethics policy, editors and reviewers don't accept gifts or free trips from automakers. The Editorial department is independent of Cars.com's advertising, sales and sponsored content departments.
Share